President, GRID Alternatives Colorado
Victoria Mandell
Interviewer: Sharon Jacobs,
Interview date:  June, 2019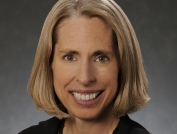 "There is a strong impetus nationally to invest in solar for many good reasons.. But the policies haven't been designed to incorporate equity issues. …In fact, these policies are regressive.  You have low income customers paying for high income customers to have solar on their roofs."
"One of the most important policies to remedy these [solar equity issues] is community solar gardens. The policy allows lower income people to own part of a solar facility. Another way to address the problem is to have set-asides for low-income households. You allocate a percentage of, say, solar rebates to low-income households."

"No one disputes that there are economies of scale in investing in renewables that are larger scale. And wind costs less than solar. But if you are going to have distributed resource policies it certainly seems that you would not want those policies to be discriminatory.  You want the policies to be equitable."

"Society benefits when you bring everyone along and you don't leave whole groups or whole neighborhoods or whole areas of a state behind.
Vicky Mandell is is a Colorado attorney specializing in energy regulation and data privacy compliance. She is also the President and Chairman of the Board of Directors of GRID Alternatives Colorado, Inc., a regional non-profit installing solar energy for low-income populations.
See Vicky Mandell's bio at GRID Alternatives here
Podcast: Play in new window | Download