Executive Director, Texas Energy Poverty Research Institute
Dana Harmon
Interviewer: David Spence,
Interview date:  4/16/19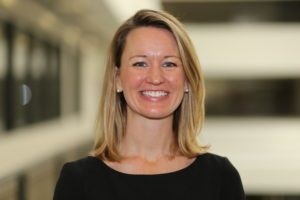 "Only 5% of the people who are eligible for federal energy poverty assistance receive that assistance.  There is a need for more and better solutions to help address this issue."
"We want to track he financial, social and environmental effects of the energy transition.  We're watching the effects to make sure the transition doesn't unfairly burden low income communities."
"As this wave of electric vehicles is coming, how do we improve access to transportation for low-income people?  In housing, how do we make sure that there is the right mix of energy efficiency retrofits and access to solar. These relationships between energy and housing and health are important to the lives people."
Dana Harmon is Executive Director of TEPRI, and has 13 years of leadership and management experience in the energy and consumer products industries, including experience from two prior start-ups, an engineering background, and a broad skillset in project management, operations, marketing, business development, and technology commercialization. Ms. Harmon earned a B.S. in Industrial and Systems Engineering from the Georgia Institute of Technology in Atlanta. She has received a Texas Venture Labs Award for Excellence in Energy Innovation, a certification in Marketing Strategy for Business Leaders from Cornell University, and is a Prosci™ certified Change Management Instructor. Her volunteer work includes serving on the advisory board for a local private school, serving on her neighborhood's community enhancement committee, and volunteering with Child Advocates.
See Dana Harmon's bio here
Podcast: Play in new window | Download